Leaders of unites #6 ruben jonker
To me, kitesurfing was more like swimming with a kite
My name is Ruben Jonker and I live in the East of Amsterdam. I am 20 years old and currently studying graphic design at the HKU. At the moment, I still live at home, on Zeeburgereiland. I would like to live on my own, but unfortunately it is very difficult for me to find a room in Amsterdam, so I am still at home! Before we moved to Zeeburgereiland, when I was fourteen, we lived behind Artis in a typical canal house, with the high ceilings. Here, I started playing basketball. Behind my house there was a court, but it was completely empty. So, we had to be creative and make our own baskets and goals.
I started playing basketball at a former club called Fire Birdz in IJburg. I played here for about two years and when I was 15, I continued my basketball journey at BC Amsterdam Warriors. There, I played fairly high regionally for 3 more years.
Besides basketball, I also really like watersports. Waterskiing, windsurfing, and sailing. In one of my former jobs I was a sailing teacher where I taught children between the ages of 9 and 14 years old. I tried kitesurfing once, which to me was more like swimming with a kite. Nowadays I do not get on the water very often, but last year I went sailing through the province of Friesland for a week! So, it is really more of a hobby, something I do to relax.
3X3 Unites has really become a home for me
After my experiences at BC Amsterdam Warriors I felt I had reached my peak, so I stopped playing basketball for a year. During my break I was contacted by Mike Nasibdar about the 3X3 Unites foundation. I was immediately very enthusiastic about the foundation and decided to participate in the 3X3 Leader Course. 3X3 Unites has become a home for me, with a large community. I can express my creativity very well at the foundation. I get to think along with current projects, but I also get the space to create my own ideas and projects. 3X3 Unites is also a source of inspiration because of all the different people you meet and the willingness of the foundation to help.
Because I no longer play basketball myself, 3X3 as a sport gives me a great feeling of nostalgia.
The memories of the past seep back in every time I step on the court. Sometimes I take a break from basketball again, but I always keep coming back. I do not enjoy the 5 against 5 structure anymore, but 3X3 really gives the feeling of being involved with basketball and society, whilst meeting new people. It gives me the opportunity to decide for myself exactly what I want to do, and it certainly offers me many opportunities.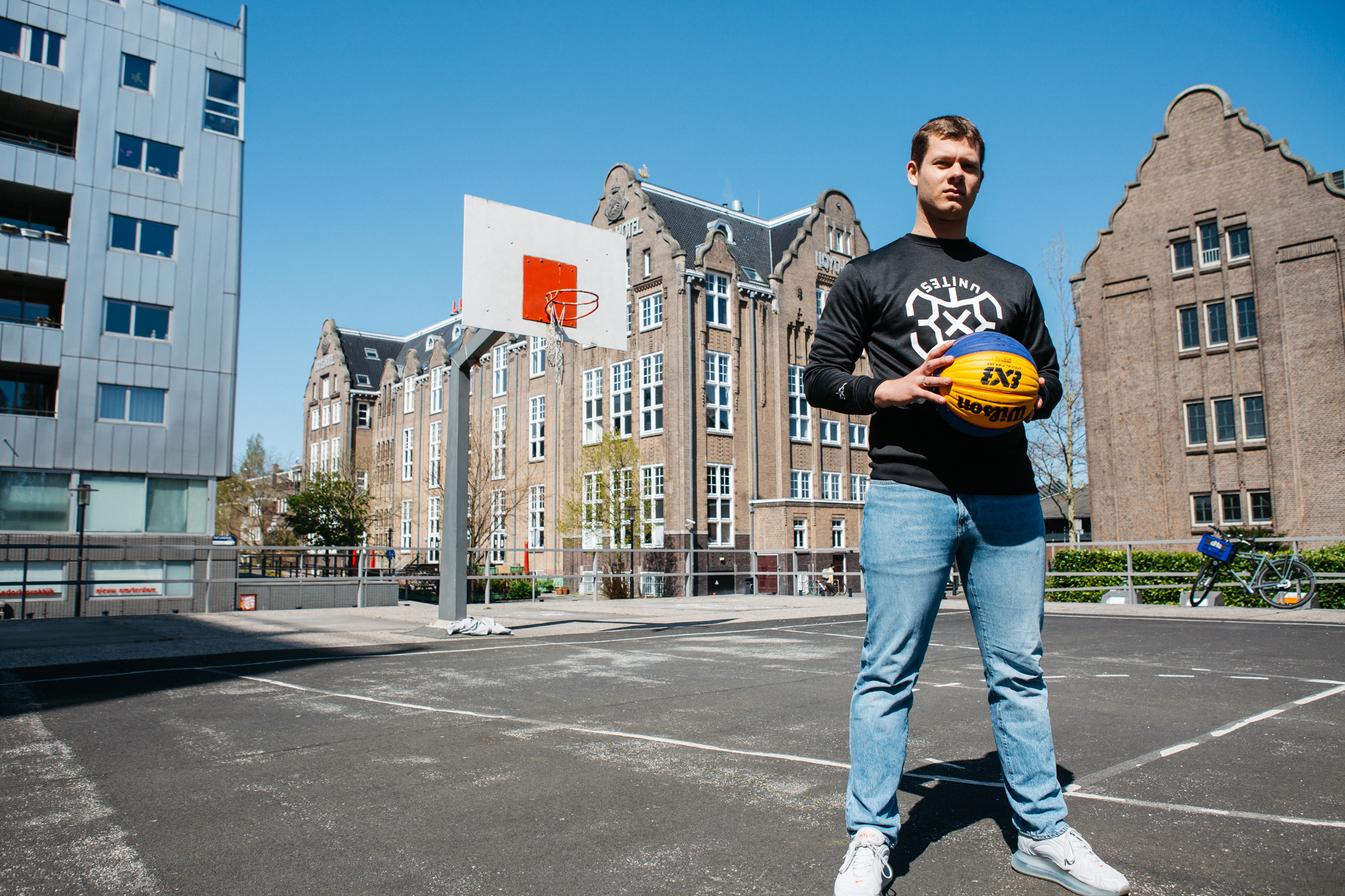 I want to be able to bring structure to the chaos
I do not really think much about my future yet. I would like to start my own business sometime, but it is important to me that it is something original. It must also have some impact on improving society. I also want to see what my studies and accompanying internships can bring me.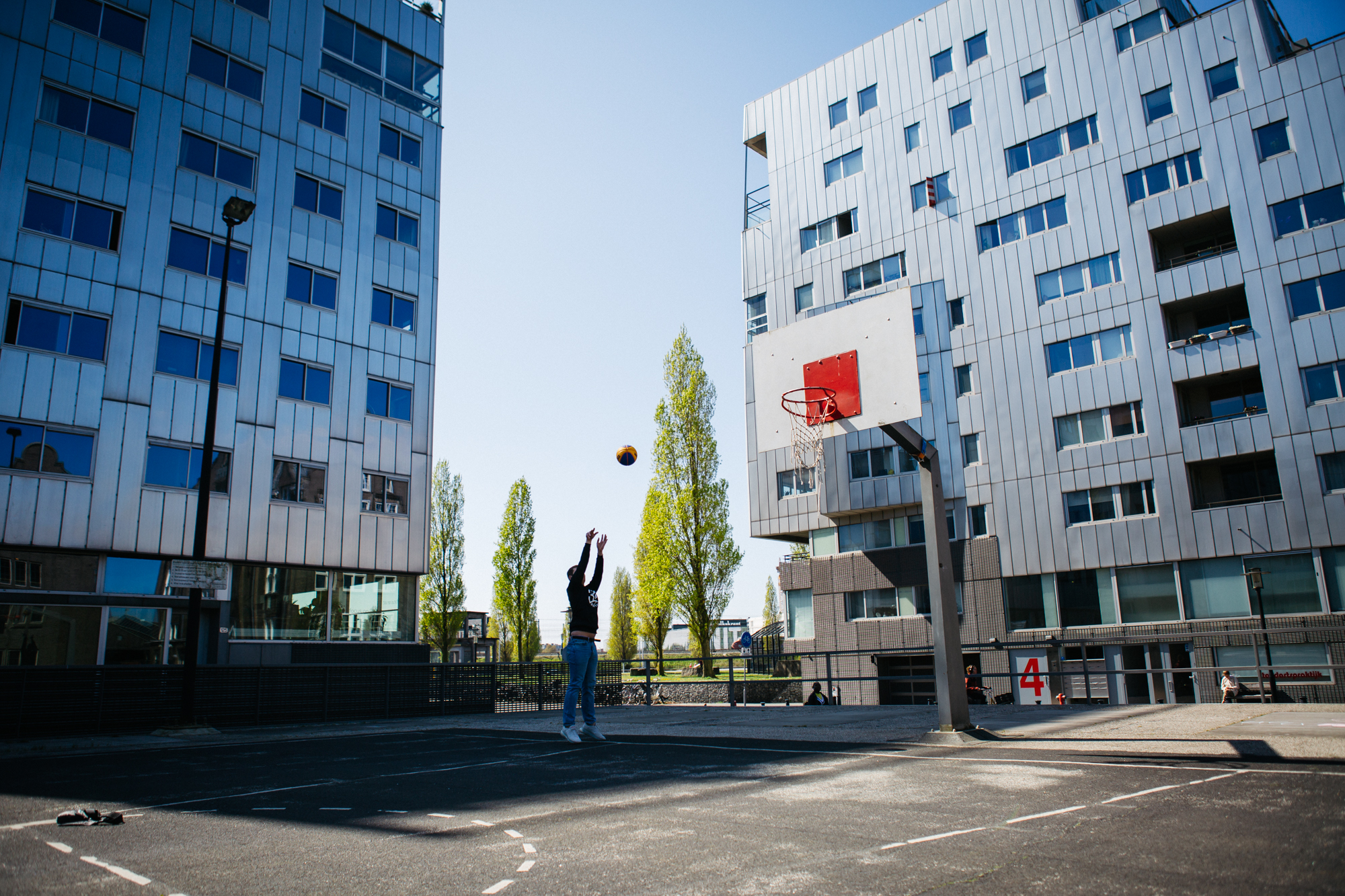 At the moment, I am part of the social media team of 3X3 Unites. I create content and graphics for their channels. For the future I think it would be really cool to run my own projects for them and perhaps even collaborate with Unites.
Creating a new corporate identity for the 3X3 Next platform, for example. I like to experiment with graphic design, but I am also very interested in music, architecture, and clothing. Many interests, all of which overlap and between which I cannot choose yet.
I notice that this is also one of my skills that I need to improve upon. I can be chaotic sometimes. I have a lot of good ideas, but they all remain on the shelf gathering dust, which is a shame. I want to structure that chaos. However, I am still young, so hopefully I will have time to develop myself further and choose a clear path!