3X3 PRO events are back in the Netherlands!
Tap for Dutch
3X3 Unites and the Dutch Basketball Federation (NBB) join forces once again to showcase the best 3X3 teams in the Netherlands! This summer 3X3 Unites and the NBB will host four 3X3 PRO Cups throughout the country. After the 3X3 Street League, the 3X3 PRO Cups will be the next chapter in the 'From the Streets to the World Stage' competition series. During the 3X3 PRO Cups the teams will take on each other and battle it out to qualify for the FIBA 3X3 Challenger (men) or 3X3 PRO Cup Finals (women) in September. Three of the four PRO Cups will be hosted in combination with 3X3NL Tour stops.
Co-founder and former pro player Jesper Jobse: 'we want to honer the DNA of this Olympic sport, by giving everyone the opportunity to show their 3X3 skills this summer. In collaboration with our partners, we showcase Dutch talent and pro players this summer through this unique competition.'
3X3 PRO CUPS 2021
- Heerenveen // 31 July - men & women
- The Hague // 7 August - women // 8 August men
- Utrecht // 14 August - women // 15 August men
- Amsterdam // 21 August - men & women
You don't want to mis this! The four 3X3 PRO Cup Champions will qualify for the FIBA 3X3 Challenger (men) or the 3X3 PRO Cup Finals (women) on 19 en 20 September.

You think you've got what it takes? Sign up now! Gather your team and send an email to 3x3@basketball.nl before the 10th of July. Include the following in your message: team name, players (maximum of 6) and in which city or cities you want to compete. The organisation will select the teams from all entries that will be received.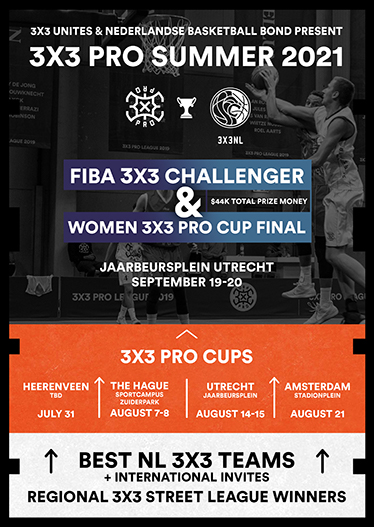 the 3x3 pro cups are the road to qualify for the fiba 3x3 challenger or 3x3 pro cup finals on 19 and 20 september
To fullfil our mission to really take it 'From the Streets to the World Stage', 3X3 Unites will host one of the most prestitigious 3X3 tournaments on September 19th and 20th. In Utrecht the final chapter of this series will take place, where we bring 'the World Stage' to the Netherlands.
16 of the best male teams from all over the world, including some of the Olympic teams, will take each other on in the FIBA 3X3 Challenger. Competing for the title and the prize money (total of $35.000,-). But the women also have something to look forward to! The four winners of the 3X3 PRO Cups will battle it out at the same tournament in the 3X3 PRO Cup Finals with a total of $6.000,- prize money for the participants.
What are you waiting for?! Sign up now through 3x3@basketball.nl and maybe your team will be holding that cheque up in the air on Septmeber 20th!!