Leaders of unites #13 anes tuffour
Every match for me was all or nothing
My name is Anes Tuffour and I am 21 years old. I was born and raised in Amsterdam Southeast and have lived there all my life! At home, I lived with my mother, my brother and my two sisters. For 5 months now I have been living on my own, where I have really been able to find my peace. A month ago, I completed my studies in International Business Management and I am now working. It is not yet a job related to my studies, but at this time I am already happy that I have a job.
When it comes to basketball, I started quite late in life. When I was 15 years old, everyone in my high school suddenly switched to basketball. I first ended up at BC Warriors and after doing several trials I was chosen for the second team under 18 at Apollo.
In recent years I have experienced quite a few cool basketball moments. 4 years ago, I won the first 1 against 1 tournament by 3X3 Unites!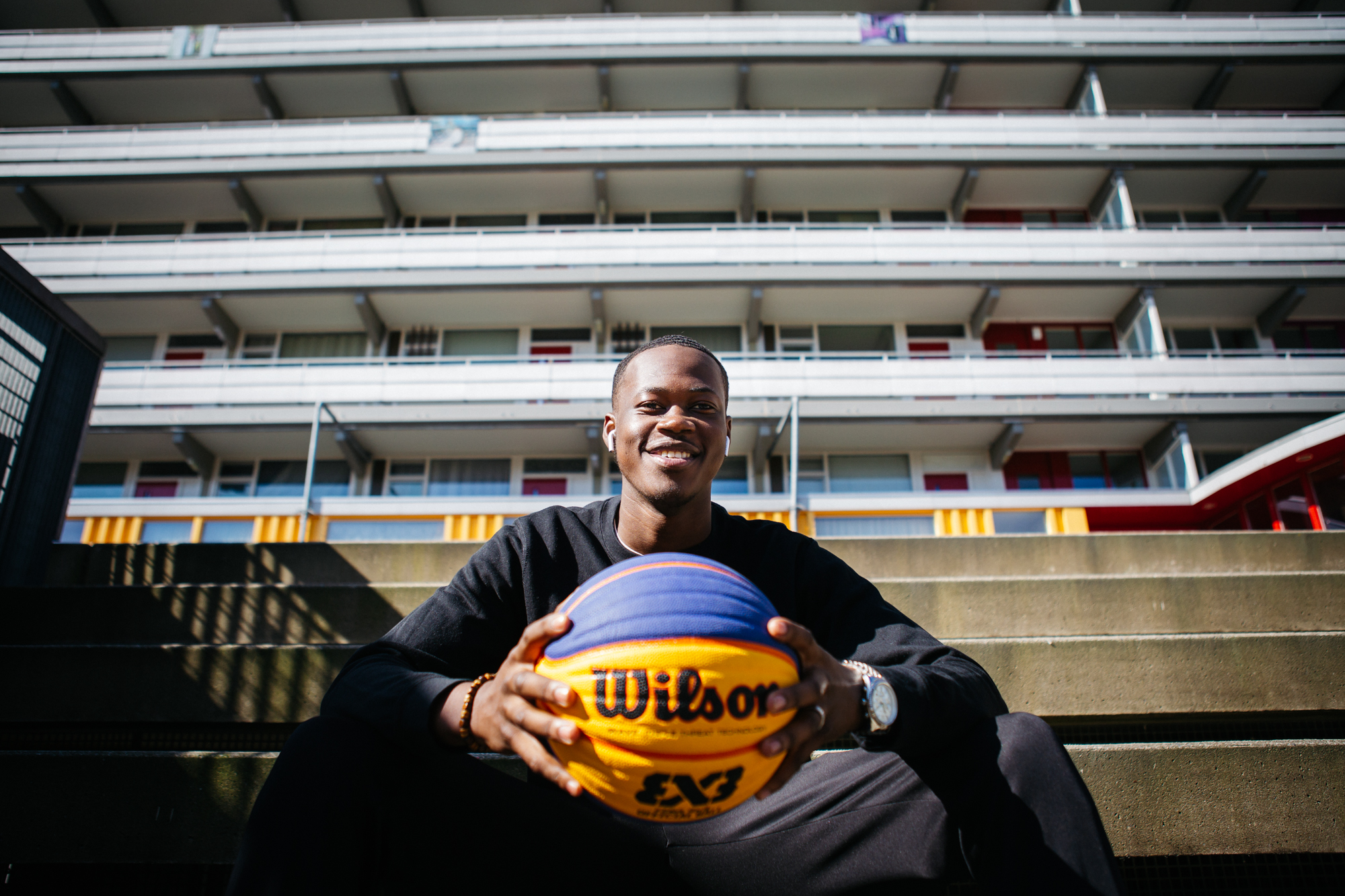 This was a fantastic experience, where I beat guys, I never dreamed I could beat. Every match for me was all or nothing, and to eventually win the final was so beautiful! It was a good time for me, from which I also drew a lot of strength.
In 2018 I was allowed to play in the 3X3 PRO League! Due to injuries, another team was short of a few players, so we were asked to play with our own team from Southeast. I did not have to think twice about this, and I immediately said yes. We played against much better players (internationals!), But it felt like we really had a chance, since 3X3 is a completely different game. The PRO League actually went quite well, we did not win everything, but that experience showed us that we could endure in 3X3.
I wanted to do something for the young people
At the beginning of 2019 I had the opportunity to go to Canada for my studies and I seized that opportunity with both hands. Canada has been the best experience of my life yet. It was really the first time that I went on an adventure alone. To an unknown country and without family or classmates. For me, it felt like I stepped out of my one life and ended up in a whole new life. I realized that there is much more than just the Netherlands and my world suddenly became much bigger than just Amsterdam.
When I was young, activities were organized on occasion, but that was sporadic. There was no place where I could develop or evolve myself. When 3X3 Unites came into play, I really wanted to be part of their community. In 2016 I registered for the first Leader Course of 3X3 Unites, the main reason being, so that I could offer the people in Southeast something that I did not have. We started with getting people to the courts, organizing games, and really getting people active. I also learned a lot of skills. For example, how to deal with people, but also how you can achieve your goals, with and without basketball. Since then, it has become a great success. It is now a place where I can be relevant to young people, where I can present my own ideas and initiatives, but also where I am encouraged to challenge myself.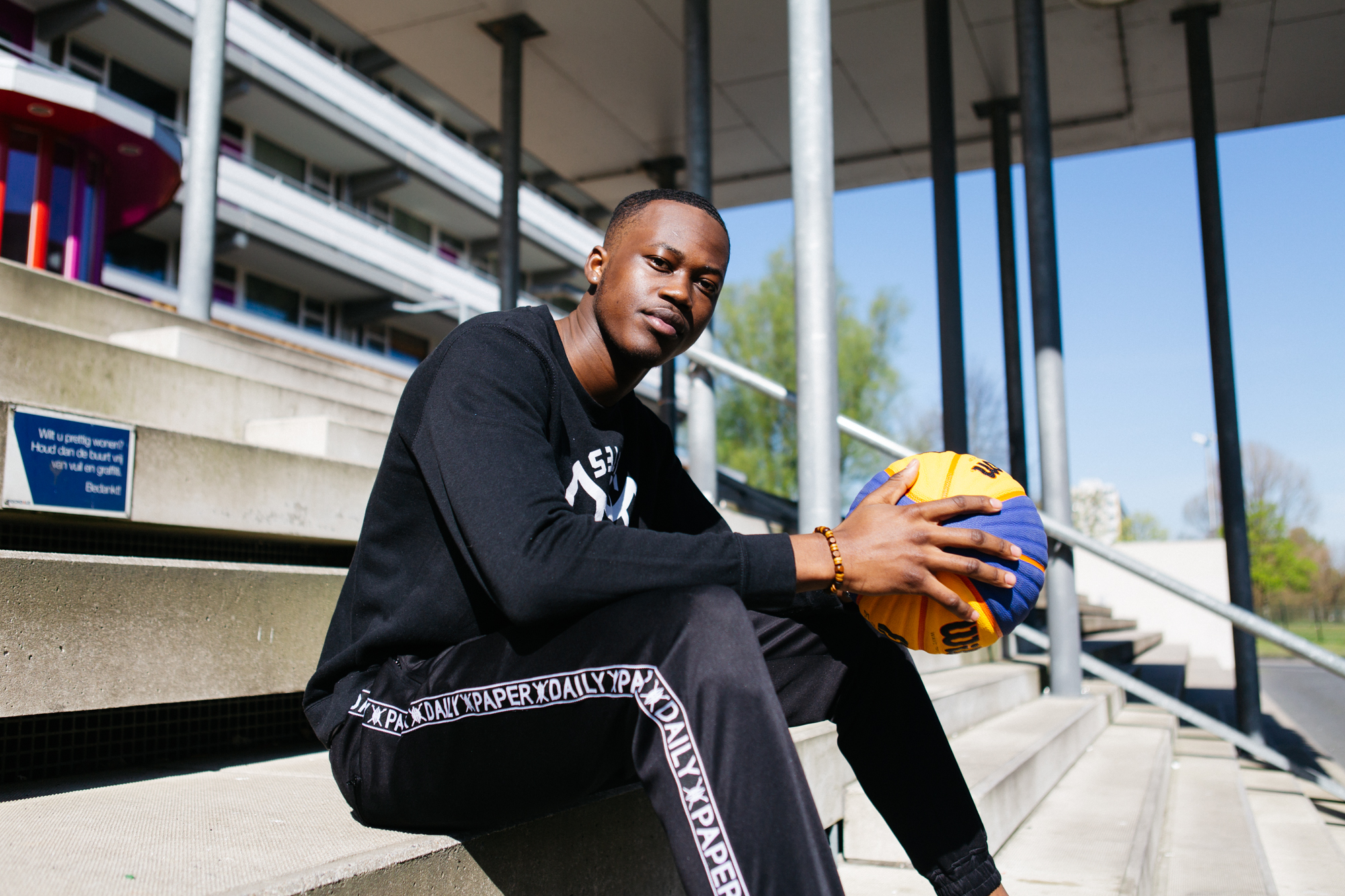 My experiences at 3X3 Unites have also helped me to uncover what I am good at, but also what I like. In 2020 I started my own fashion blog, The Drip NL.
We were in the middle of the COVID lockdown and I had little to do. I myself always looked at other fashion blogs on Instagram and then I thought, why shouldn't I be able to do that myself?! Then subsequently I created The Drip NL, and it is going really well. It is something that I am very proud of.
I also became part of the social media team at 3X3 Unites and we have been working on the podcast for 3X3NEXT for a while. I now do so many things that really suit me and that I really enjoy. I get a lot of energy from that!
3X3 taught me to take matters into my own hands
For my future I promised myself a few things. First, I need to do things that I genuinely enjoy, that have meaning, and that can make a difference to other people, as well as to myself. In 2020 I learned that everything could go wrong. It could all be over by tomorrow and I must have lived my life with my head held high. It is important to me that I can look back and be happy with what I have done and be proud of what I have achieved.
In an ideal world I would really like to expand my blog. With a film crew visiting artists, for example, and check their fashion and drip. It also seems really cool to have my own clothing brand. They are big dreams but through 3X3 I learned to take matters into my own hands and that you can only achieve something by just doing it! I myself am also someone who strongly believes in "there is enough for everyone". So, suppose I succeed in achieving my dreams, I would like to put a lot of effort into the youth of Southeast. I would like to guide them in achieving their goals and dreams. Growing up, I did not really have any guidance in determining my direction in life. Especially for the youth in the Southeast of Amsterdam it is difficult to address and approach people. I would like to play a big part in this and give them the guidance they deserve!