leaders of unites #12 nienke van der werf
When I was 3 weeks you could already find me in my Maxi-Cosi beside the court
My name is Nienke van der Werf, I am 23 years old and I grew up in Heerenveen, Friesland. At home everything was always about basketball, so you can say that grew up in on the court! When I was 3 weeks old you would already find me in my Maxi-Cosi next to the court. As a family, we were there at least 5 times a week. At the age of 7 I was finally allowed to play basketball myself and I was the only girl in a team with 12-year-old boys. I was too small for the uniforms, so I had to train in my own outfit from gym class.
As I got older, I started playing in a girls' team. I only trained with them twice a week, but I wanted more! Then I began training 5 times a week. Still, this was not challenging enough for me. I wanted to play in Zwolle. Unfortunately, my parents put a stop to this.
As the oldest child and only girl in my family they did not want me traveling alone by train for hours a day. I would also have to change high schools, so they wanted to keep me safe and close to home. As a compromise I started playing for Groningen.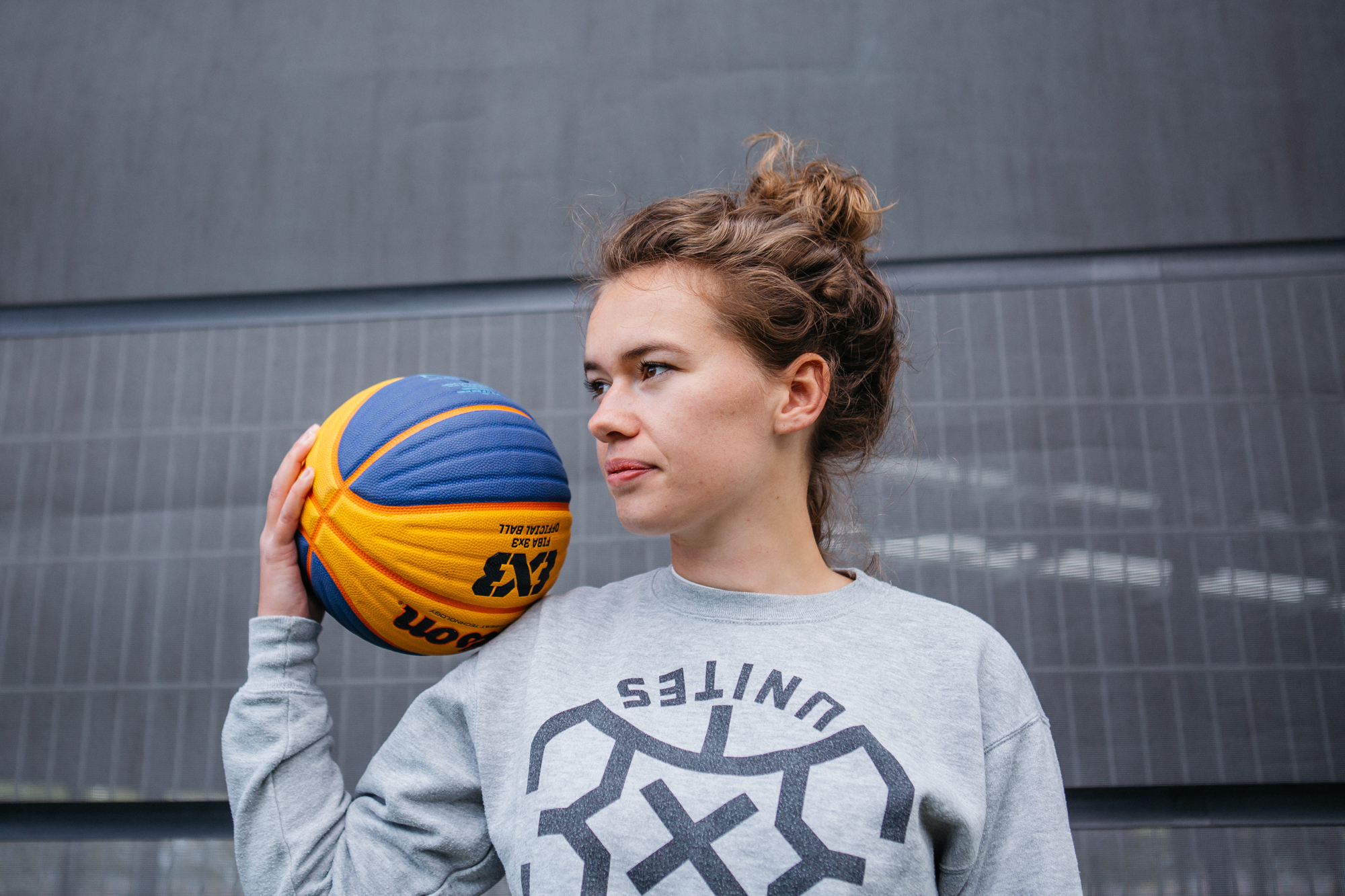 However, this was also short-lived. My grades at school were not up to par, so my parents decided halfway through the season that I had to stop in Groningen and cut down on my training hours. Even though the training sessions in Groningen were over, I continued to attend my normal training sessions in Heerenveen, which was still 5 times a week. I did learn a hard lesson here. You need to have your life in order if you really want to achieve something and you cannot just follow your education half-heartedly.
I have pushed myself beyond my limits, but it was unthinkable that I would never play basketball again
It is clear that I was really into basketball. I wanted to play everywhere, and I tried to do everything at once. Until the age of 16 I played for the Dutch Youth Selection and then my body started giving in. I tore my ab muscles, which is absurd for someone that age and I could not do anything. In my last year of high school, I went back to play in Groningen, where I was playing in the premier league at that time. However, during my college studies in Leeuwarden my body started to resist my activities. A cramp in my leg turned out to be a quadruple whiplash in my hamstring. After six months of rehabilitation, my doctor pointed out to me that if I continued now, I would not be able to do anything at the age of 30. My muscles could no longer recover from the exertion. Stubborn as I was, I went back to training 3 times a week. I hit rock bottom when I had played basketball one week and on the 10-minute walk home I could not even make it halfway there. My body broke down. I sat down on the sidewalk and called my mother. There you are, 18 years old, telling your mother that you cannot come home, because your body has stopped working.
I pushed myself beyond all my limits, but it was unthinkable for me that I would never play basketball again. It was all I knew, and my life revolved around the sport. In the end I managed to quit completely, but it was a tough road. It was very difficult for me not to play basketball and it kind of felt like a grieving process. I had to redesign my life and I was very sad that I could no longer play sports. At the end of the summer, it was time to get my life back on track. Eventually, I started training younger players and run other basketball related projects. It was difficult to be involved in the sport, while I could no longer practice it myself, but I think it is the most beautiful sport there is, and I learned a lot from it. Not only basketball skills, but also social skills, perseverance, and stubbornness.
3X3 became a kind like a refuge for me
3X3 has been able to provide me with a bit of relieve. I was no longer a member of a club team, but 3X3 does not require that of you! So, I had at least one more tournament a year where I could play my favorite sport again. It became a kind of refuge for me. At that time, I also started working with 3X3 Unites, and eventually they have now become a big part of my life. In 2018 I started WE HERE Fryslân. This project was set up to introduce basketball clubs in Friesland to 3X3, and to explain the value of the leaders and young people. In addition, I also set up a platform to support the basketball clubs.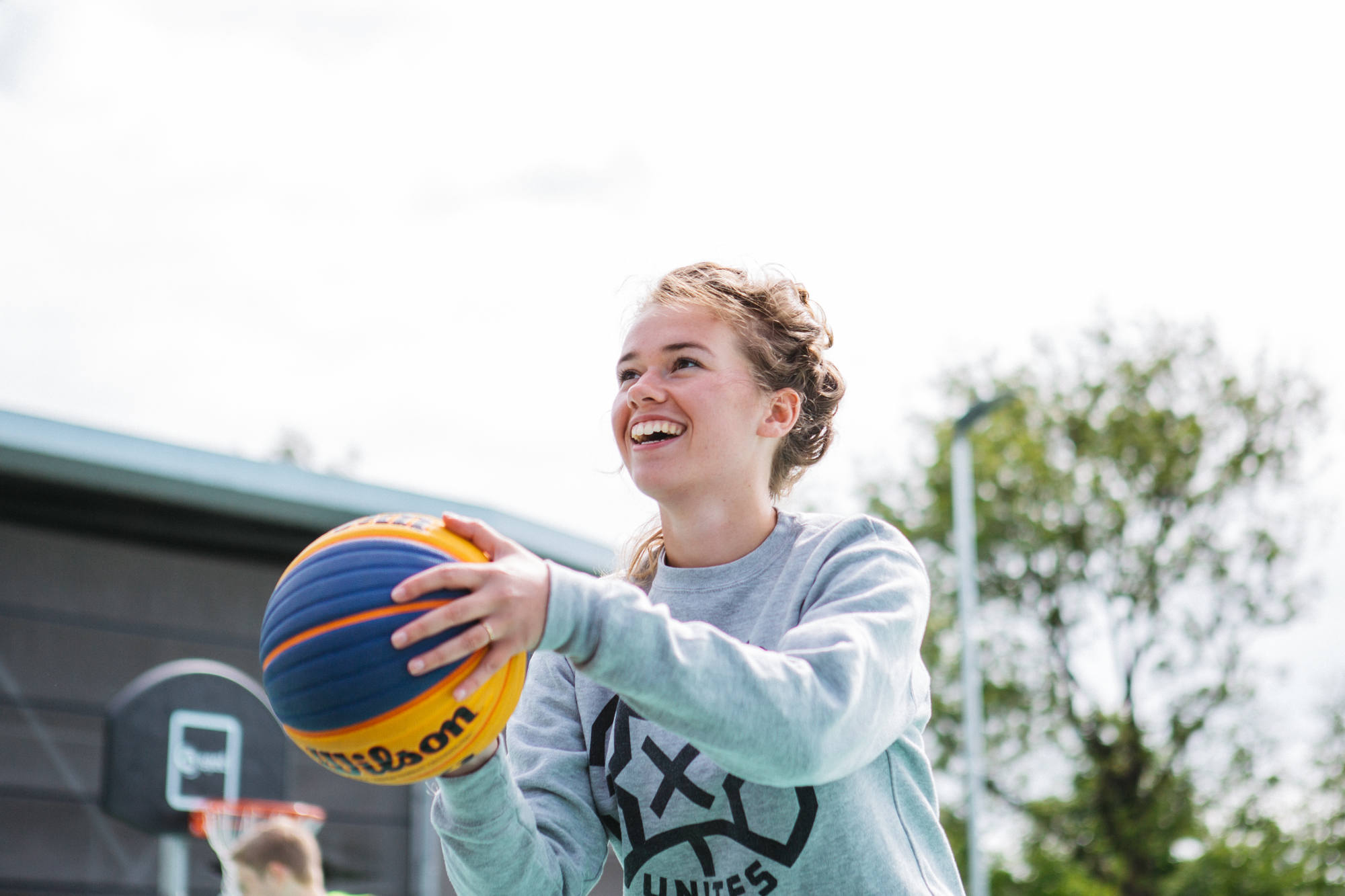 Since this year I am the project leader for the girls program at 3X3 Unites in collaboration with Made to Play. I can pass on my love for the game to young girls, create opportunities for them, but also offer them a safe environment.
We work relentlessly to create equality within our community, no matter who you are. It is really cool to see the impact you can have on those girls. I hope that we can make a difference for many more girls in the coming years. We are currently still focusing on the Southeast of Amsterdam, but hopefully we can expand our horizons.
Now, I want to share my passion with the young people
An important goal to me is to always keep developing myself. I have learned than I can do that within basketball, but also outside of it. However, now that I have stopped playing basketball for a few years, I experience the sport in a completely different way. Basketball taught me so much and now I love to pass this on through 3X3. I just want to share my passion and communicate the lessons I have learned to the young boys and girls of today. Looking back on those hectic years of the past, I am now doing very well! I regained my energy because I started listening to my body. I am really looking forward to the future and I am curious to find out what is still to come!