leaders of unites #7 marvin dijkstra
The last 4 years have been a constant struggle between my body and my head
My name is Marvin Dijkstra, I am 25 years old and grew up in Heerenveen, Friesland. My path in basketball has not always been easy. A few years ago, I played at the highest level in the Netherlands, which was awesome of course! I was not necessarily the best player, but with a lot of perseverance and determination I managed to compete on this level.
Unfortunately, tragedy struck. I tore my cruciate ligaments for the first time. Now, four years later, I have torn my cruciate ligaments three times already. Playing is impossible for me at the moment. The last 4 years have been a constant struggle between my body and my head. Mentally I really want to play basketball, but physically that is not always possible. I am training, recovering, and practicing so that I can get back on the court! But sometimes my body fails me. Hopefully, I will be able to compete again next season, but right now I have started to focus more on things off the court.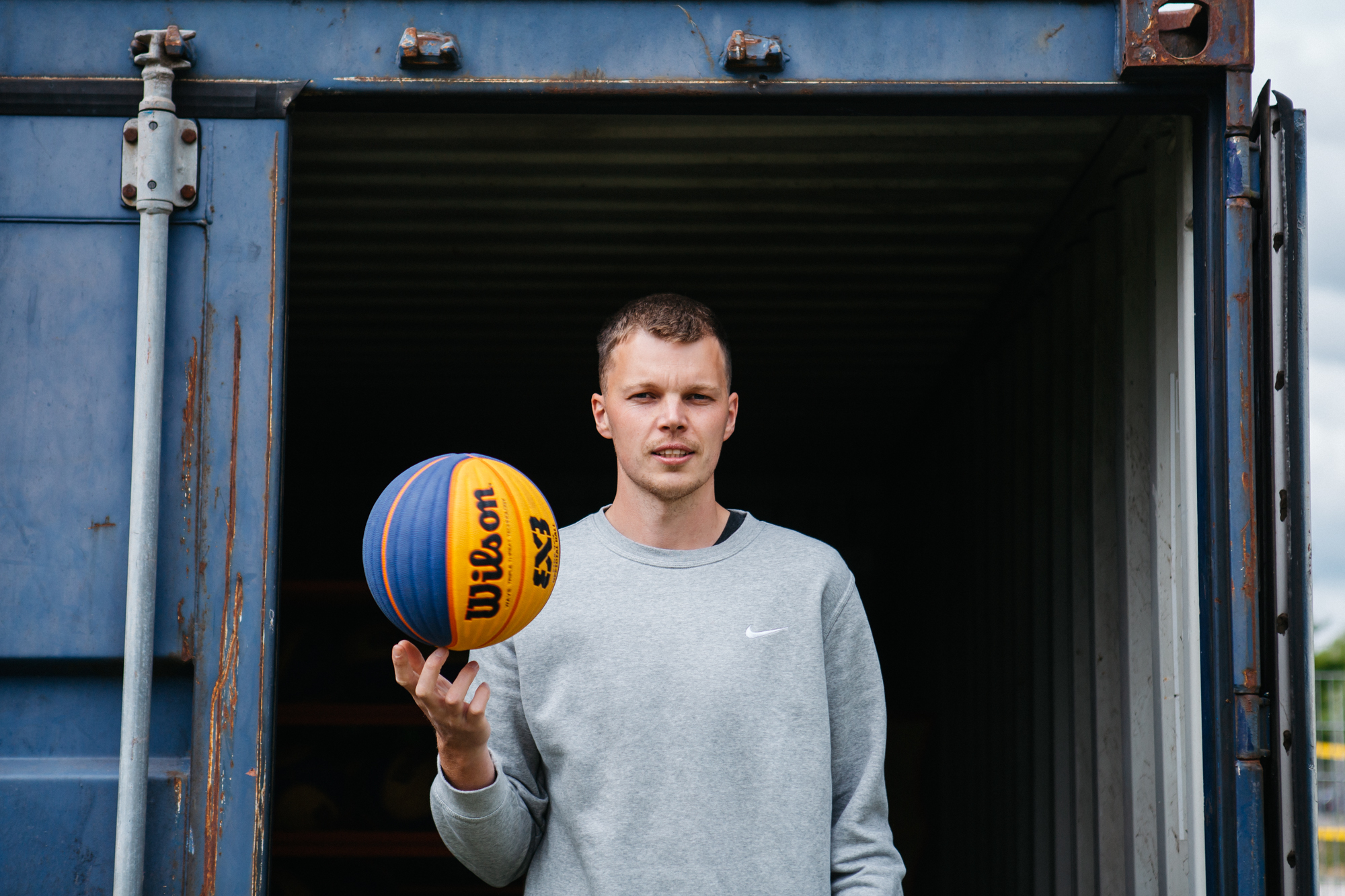 We want to set an example for other cities and towns in Friesland
Years ago, I already came into contact with 3X3 in addition to my 5 against 5 basketball. During the training we often played 3X3 games. As a result, we ended up in situations where you really had to make decisions yourself, something 3X3 is known for. For 2 years now, I have become more involved with 3X3 Unites as a foundation. In Heerenveen, we started a project to promote the 3X3 World Cup in Amsterdam. Partly because of this, 3X3 started to develop more and more in Heerenveen. Eventually, I even assisted Bas Rozendaal during the Leader Course. So, slowly but surely, I started to concern myself more with 3X3 Unites projects.
When Heerenveen was named a 3X3 City by the Dutch federation, things started moving very fast! We were suddenly able to organize many activities, clinics for young kids under 12, but also pick-up games for anyone who wanted to. We want to set an example for the other cities and villages in Friesland, so that we can show them all the wonderful possibilities. Last year, we managed to move "our" court to a better location. This has made us more visible and we ensure that, together with a group of motivated leaders, we are represented on the court as much as we can. The community is constantly growing. Now, we have more than 100 people in a group app just for our court in Heerenveen!
3X3 taught and brought me things that I could not have imagined 2 years ago
It is quite clear that I partake in all kinds of projects in Friesland for 3X3 Unites. I have thrown myself at them and it gives me many opportunities! 3X3 taught and brought me things that I could not have imagined 2 years ago. I am now on the board of my basketball club Dyna as chairman. I felt that certain things could be done differently within my basketball club and I acted. A few years ago, before I had followed the 3X3 Unites programs, I could never have done that. Thanks to those programs I was given the tools to have the courage to be a part of change-making and I am very grateful for that.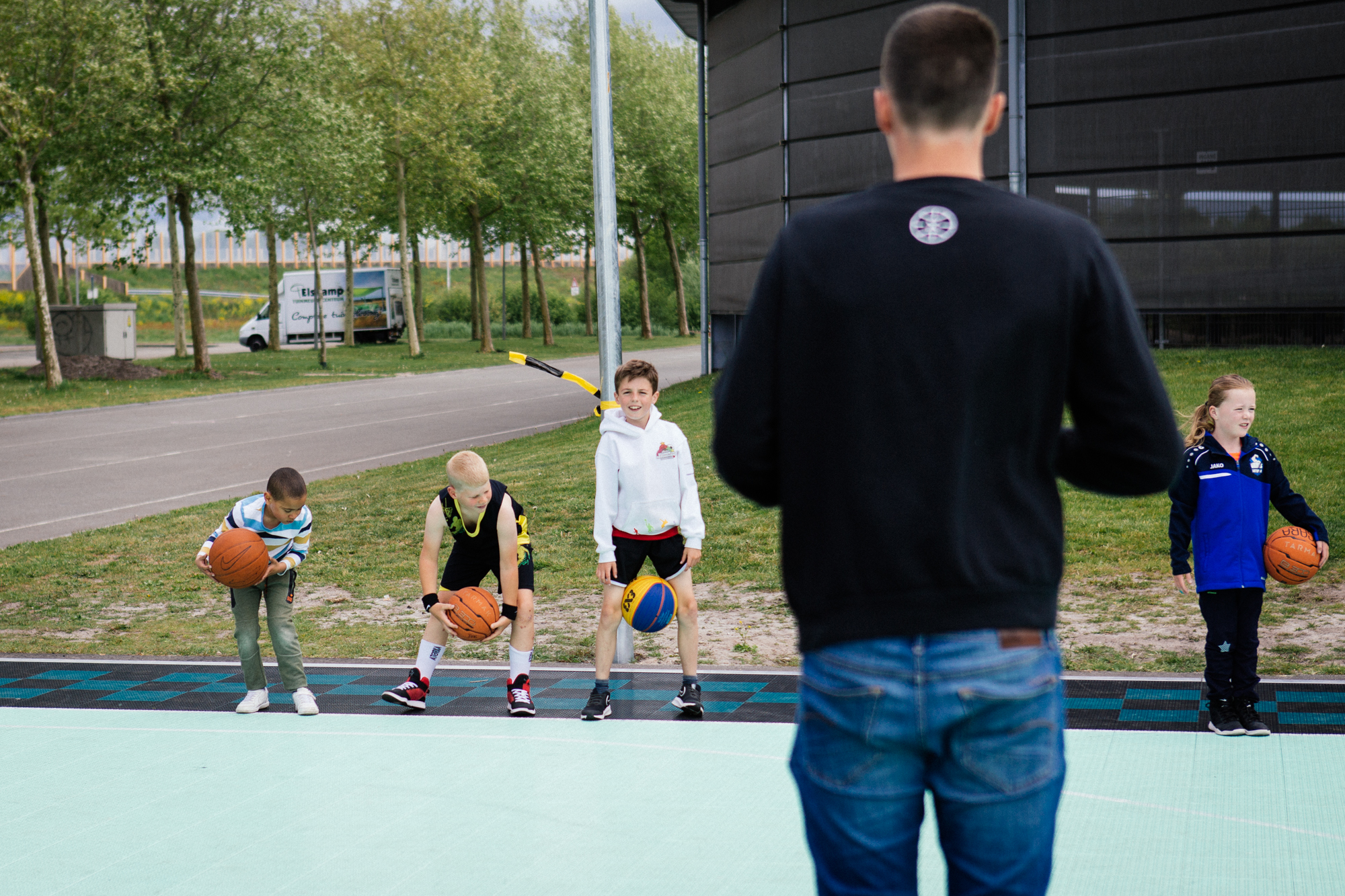 In addition, I have learned to be like a connector between different groups. This applies to my role as chairman within my club, but also within my work for 3X3 Unites. It is important to me to bring people together and to inspire. As chairman I would like to involve more people from the club in the normal course of events. I would like to give responsibility to the youth that is now emerging within the club. In that way they stay connected and interested and really get the feeling that it is their club and not just a place where they play basketball.
As chairman, I hope that I can be a role model for the youth
When I look to the future, I mainly focus on the short term goals. For example, I intend to complete my Leisure Management study, but I have one other important goal: to be able to play basketball for one more season. Right now, it feels like I am missing something. I would just like to play one more season, to show that you can come back despite of injuries. I am almost finished with my physical therapy and will be getting back out on the court soon, which is an incredible victory for me! I just know that if I set my mind on something, I will keep going until I make it.
Those qualities of persistence, never giving up and doing what you want are my most important skills. I actually owe this mainly to recovering from my knee injuries. I have injured my cruciate ligament three times now, which is quite a lot for someone my age, but giving up is not an option. I hope that as chairman I can be a role model for the youth, inspire them to fight for their dreams and not give up when the going gets tough.